Airports in Florida and Texas are at the highest risk to receive more passengers with the Zika virus in the coming months, according to researchers with a grant from the US Department of Defense.
EcoHealth Alliance, an international conservation group, analyzed all airports in the US by assessing how often passengers trickle in from areas with confirmed cases of Zika virus. They identified 17 airports in 11 states and ranked them according to risk.
"I believe this is something that people should know," said Andrew Huff, the associate vice-president of group, who oversees efforts to forecast the spread of infectious diseases. "If you know where an infectious disease is, you can take precautions."
According to their analysis, Logan international airport in Boston, John F Kennedy international airport in New York and two in the Washington DC metropolitan area are next on the list of airports likely to receive those with the fast-spreading virus.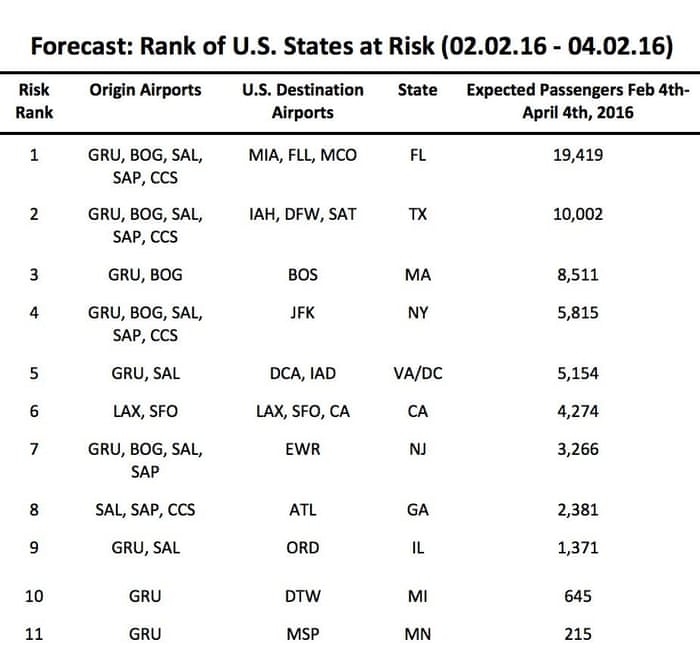 Zika has been recognized as a global emergency by the World Health Organisation because there is an unconfirmed link between the virus, most often transmitted through mosquito bites, and babies born with brain damage. While it's unclear whether microcephaly, a birth defect that stunts a fetus's head from growing, is caused by Zika, the numbers of cases have swollen since it was transmitted in Brazil in 2014.
Now more than 20 countries and territories in the Americas have found Zika transmissions, places where the WHO estimates there will be as many as read more